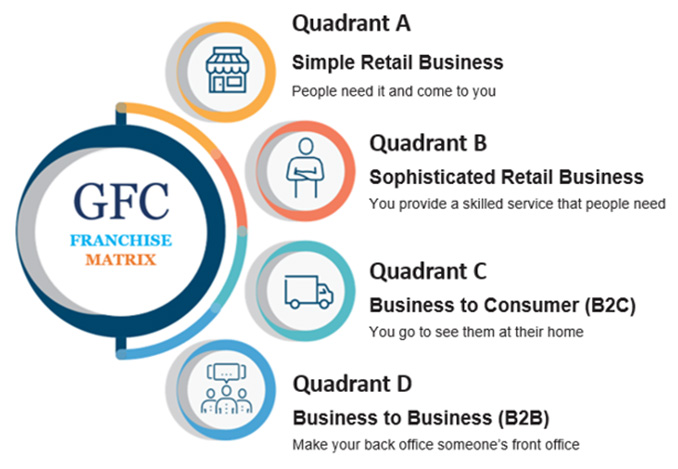 Quadrants of Franchising
GFC is very selective in the franchise brands it chooses to work with. Using a series of strict criteria, we have spent 1,000s of hours pre-screening franchise brands. By only working with the top 5-10% of the 4,000 franchise brands offered in the United States, we will keep you clear of the industry's underbelly.
In other words, the hardest and most time-consuming part of your franchise search has already been done for you. Without the headache of weeding out the "bad apples", you can devote all your attention to finding the right "fit" for you and your home market.
There are four major quadrants of franchise businesses, all of which are well represented in GFC's portfolio. By understanding the unique characteristics of each quadrant, you will be better equipped to focus on the categories that best fit your personal criteria
4 Quadrants of Franchising
Brick and Mortar Businesses
Simple Retail
Transactional business by nature. Customers come in, buy, and leave.
Simple employee model (think of an 18-year-old kid who can learn the job in a few shifts).
Startup cost is usually $150k-$300k (this typically includes build out, marketing expenses, working capital, fixtures, etc.)
Average facility is 1,200-2,000 sq. ft in a strip mall (think of where Subways are located).
Marketing is REACTIVE – people come because they know the brand and they need the service.
Brand recognition is important in this quadrant–people are more likely to go to Subway than Brendan's Subs.
Location is very important because most of your clients are going to see the store and then come in.
Examples: Fast food, Haircuts, Gyms
Sophisticated Retail
Any business that requires specialized labor (difference b/w the guy changing a transmission at AAMCO vs. the guy at Subway making sandwich). A franchisor who will help you find, train and manage skilled employees is important.
Startup cost is usually $300k-$500k.
Average facility is 3,000-5,000 sq. ft- standalone (think of where a Meineke is located)
Marketing is BOTH reactive and proactive – we can target customers in certain areas.
Barriers to entry are higher than simple retail so these businesses tend to stick around longer and have fewer competitors
Brand Recognition is important in this quadrant, but so is marketing and operational capabilities.
Examples: Automotive repair, Spas, Sign shops, Medical clinics, Urgent cares
Business to Consumer (B2C)
Any business that provides a service to a residential consumer- usually in their home.
You don't need a storefront – these businesses can be run from a home office or a light industrial space.
Startup cost is usually $75k-$150k. This can increase depending on the level of equipment and personnel you start with.
You add people as the business scales. This tends to be a cost-effective way to grow.
A franchisor that drive business to you is important in this quadrant.
Brand recognition is important but the demand for the service and the ability to reach consumers is equally important.
Owner in this quadrant tend to have good selling and interpersonal skills. Remember, you don't have a "location" to help drive sales.
Examples: Eldercare, Childcare, Tutoring, Property Services (flooring, bath/kitchen rehab, landscaping, restoration, plumbing, electric, interior design, etc.
Business to Business (B2B)
Anything that a business needs.
You operate from an office and meet with business owners to sell your services to them. A professional appearance is important in this quadrant.
Owners in this quadrant tend to have a white- collar management background and are comfortable in a boardroom setting (think PowerPoint presentations to a group).
Startup costs is usually $150k-$250k range.
Sales cycles tend to be longer and the accounts tend to be larger. Maintaining relationships is important.
Marketing, national accounts, and pre-existing relationships with large businesses can be important.
Examples: Commercial cleaning, Personnel services, Corporate drug testing, Staffing, HR services
What GFC Clients Are Saying